The majority of women who do pregnancy yoga have never done yoga before so why do they decide to start in pregnancy?
Well pregnancy yoga is very different to general yoga as it is slower and gentler. The focus is very much about increasing awareness of your changing body and growing baby, plus meeting other local mothers and having some coffee and cake of course!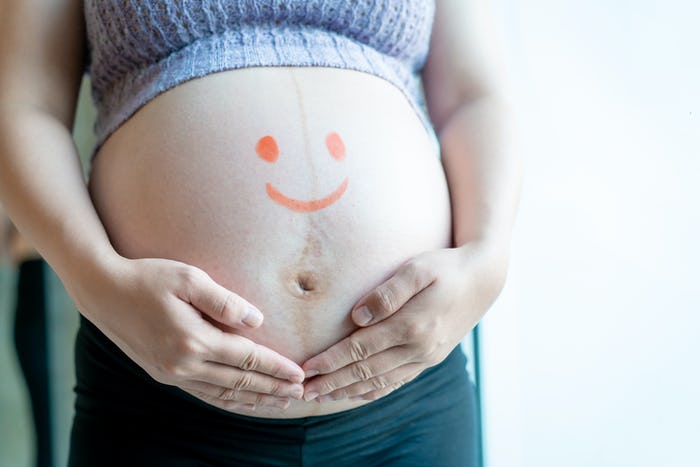 "I have thoroughly enjoyed Lynn's small and personal pregnancy yoga group. It was such a lovely opportunity to slowdown and connect with baby. The classes have given me helpful tools to relax, relieve aches and pains as well as feel more confident about final stages of pregnancy and birth. " (Julie B)
What happens at a pregnancy yoga class?
• Checking in with each other: How many wks are you? How are you feeling?
• Breathing exercises: simple techniques to use in pregnancy and labour
• Gentle, slow mindful movements from head to toe with breath awareness
• Some adapted classic yoga postures using a chair, the wall or gym ball
• Explore different positions and movements for using during your labour
• Relaxation using a guided meditation
• Stay for coffee and cake so you can chat with other mothers

"Overall it has been a very worthwhile investment to help me to relax during my pregnancy and connecting with my baby.
I'm also feeling more positive about the birth after our discussions." (Jennie)
TEN reasons to do pregnancy yoga
1. To practice breathing techniques to assist in creating a positive birth through learning to connect with your breath.
2. Reduces stress and anxiety in pregnancy and labour
3. Increases your flexibility and strength
4. More awareness and strengthening/relaxation of your pelvic floor
5. Lessens aches and pains in certain areas, such as lower back
6. Enables you to connect with your growing baby
7. Improves sleep pattern
8. Prepares your body and mind for birth
9. Just makes you feel better!
10. Connects you with local mothers so you can normalise your own experience.
"It's clear she has a wealth of knowledge and was always happy to answer questions. I look forward to the next block of classes. I wish I had attended during my first pregnancy!" (Julie B)
Fancy trying pregnancy yoga?
I offer a weekly class on Saturdays 9.30 to 11am at the beautiful Heron Farm (in a cosy room under café) which is just outside Honiton. Book here for a taster session only £5. Recommended to start classes after your 12wk scan.